DENSO ADC QM30
 QM30
New!
A New Ultra-Compact Scanner for Tiny Spaces
Description
DENSO WAVE's Smallest and Lightest Scanner Ever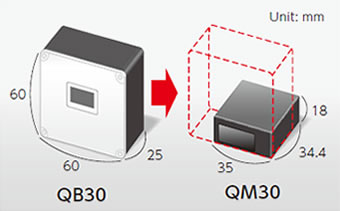 The QM30 series is equipped with the newest module developed in-house by DENSO WAVE. The new module makes it possible to reduce the scanning lens surface area and shrinks the unit's volume to about 1/4* that of the previous product.
*Compared to QB30
Compact Dimensions Ideal for Incorporation into Various Devices
At just 3.5 cm wide, the unit is ideal for incorporating into devices that couldn't otherwise accommodate a scanner. The QM30 helps design smaller scanner modules for space-saving installations.
Supports New High-security QR Code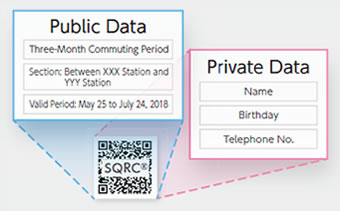 The QM30 supports SQRC with its enhanced security features and can be used for authenticity verification of high-security member ID cards and similar applications. The Q M 30 al so scans QR co des displayed on smartphones for payment purposes.
Specifications
Model
QM30-SS
QM30-SU
Scanner section
Readable codes
2D code
QR Code, Micro QR Code, SQRC, DataMatrix, PDF417, Micro PDF417, Aztec
Barcode
EAN-13/8, UPC-A/E, UPC/EAN (Add-on embedded), Interleaved 2 of 5, Codabar(NW-7), CODE39, CODE93, CODE128 (EAN-128), GS1 DataBar (RSS)
Minimum resolution
2D code
0.167mm
Barcode
0.125mm
Image sensor
480,000-pixel CMOS image sensor
Lighting
Red LED
Marker
Red LED
Field of view
Horizontal: 40°, vertical: 30°
LCD code
Supported
PCS value
0.30 or higher
Skew angle
360°
Elevation angle, inclination angle
±50°
Communication interface
Method
Serial (TTL level)
USB 2.0 compliant (COM, HID)
Connector
8-pin board to wire connector
USB connector, micro USB
Power, current consumption
5 VDC ±5 %, 500 mA (scanning), 180 mA (standby)
Environmental performance
Operating humidity
10 to 90 % RH (no condensation or freezing)
Operating temperature
-10~50℃
Protection rating
–
Drop resistance
–
External dimensions
35.0(W)×34.4(L)×18.0(H)[mm]
Weight
Approx. 18 g
Color
Black
External dimensions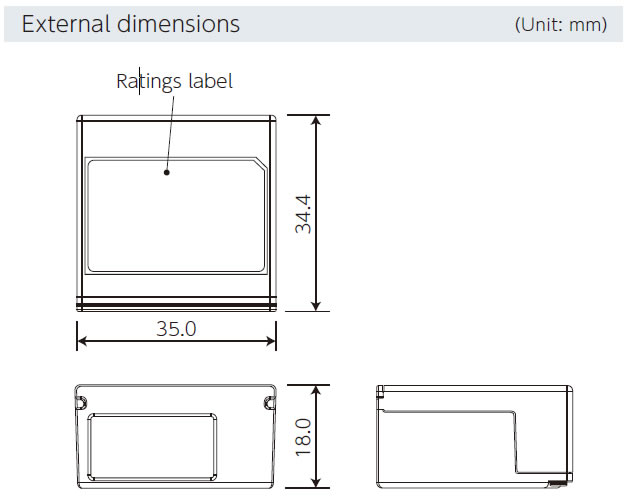 Scanning range and field of view
<
Scanner specifications are values obtained under an ambient light intensity of 500 lx or lower.
Depending on light source position, angle to the label surface, and other factors, specular reflections may prevent scanning in certain cases.
Close-distance scanning may be restricted in certain cases, depending on scanning field of view.
Warranty & Return
Warranty & RMA Information:
Warranty period varies by Manufacturer and Product Range
Contact us for Warranty specifics for your product
Contact our RMA department to requesting an RMA (310) 837-5888
The serial number of your defective product must be provided before we can process the RMA. Serial number can be found on the product label.
Upon submittal of an RMA request, an email will be sent to the email address provided with instructions on returning the defective product/s.
Shipping: The customer will only pay for incoming shipment Manufacturer will pay for return shipment (Standard ground service). Charges may apply for expedited shipping.
Repair turn around time varies by Manufacturer and Product Range.
Non-DOA Returns Policy – All products
NO open box returns for non-DOA products. Product box must be clean and undamaged, with no marks of any kind. This includes writing, stamps, or shipping labels, i.e., written RMA numbers. All products must be double boxed.
Original manufacturer's packaging, both inside and outside must be used. Returns must be complete with all manuals, cables, warranty cards, static bags, etc., just as the customer received them.
Customers have 30 days from date of invoice to request a non-DOA return. The RMA number issued is valid for 30 days from issue date.
There will be a restocking fee on returns resulting from customer error.
Non-DOA configured product may not be returned.
Products that show signs of use are not returnable to Peripheral Resources as non-DOA.
For customers on credit terms, credit will be applied to your account when the product is received by Peripheral Resources.
Customer is responsible for freight costs when returning product.
DOA Returns Policy
Refer to manufacturer's warranties and returns policies.
If the product is tested and the problem is not duplicated, there may be a No Problem Found fee charged to the customer.
For customers on credit terms, credit will be applied to your account when the product is received by Peripheral Resources. Replacement product will be sent once DOA item has been received.
For customers on C.O.D. or credit card status, replacement product will be sent upon receipt of product by Peripheral Resources. If desired, we will send replacement product at your normal C.O.D. or credit card status and you can request a refund or credit to your card when Peripheral Resources receives the returned product.
Downloads
| | | |
| --- | --- | --- |
| | User Manual | |
| | Product Brochure | |