DENSO ADC AT30Q
Scan codes displayed on mobile devices and smartphones.
Innovative design allows users to see codes as the scan them.
High performance scanning that can read dirty, damaged, and poorly printed codes.
Easy to clean with a variety of solutions common to healthcare environments.*


AT30Q

New!

Touch scanning of both linear and 2D codes

Touch scanning while checking codes enables every user to work accurately and quickly.

【5year warranty】 for USB,RS-232C model
※only for body, except cable
Description
User-friendly operation
1-D and 2-D touch scanning while viewing codes
The AT31Q supports not only distant scanning but also touch scanning, which enables users to scan codes more accurately. The innovative design allows users to see the codes as they scan them.
Operator friendly
The light, compact body weighs just 125 g, reducing operator fatigue. A loud buzzer and highly visible alert light ensure that readings are confirmed.
Ergonomic design
The AT31Q is designed so the user can quickly pick the scanner up from its resting position. The ergonomically shaped grip fits comfortably in the user's hand, reducing strain during long work periods. The trigger is designed so the user's finger naturally rests on it. A click detent lets the user know by feel that the trigger has been pulled.
Outstanding scanning performance
Allows expanded services using mobile coupons and mobile membership cards
The AT31Q can scan codes displayed on mobile phones and smartphones. It can be used for normal POS check- out operations as well as reading mobile coupons and mobile membership cards, enabling a wide range of applications.
Low risk illumination source
The AT31Q light source is low wavelength, so reducing potentially dangerous glare if directed towards someone eyes. The soft illumination light ensures a people-friendly work environment.
Highly capable for reading poorly printed labels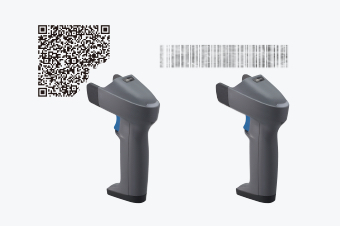 Th
e high-performance scan engine of the AT31Q can read even dirty, damaged and poorly printed codes.
Reading mode can be selected according to the operation
Point Scan Mode
Reads only the targeted code in the center even when multiple codes exist in the reading area.
One-time reading of multirow barcodes
Reads barcodes with up to three rows in a single scan.
Concatenated QR Code® reading
Reads concatenated QR Codes in a single scan.
Long-term durability provides peace of mind
Best-in-class durability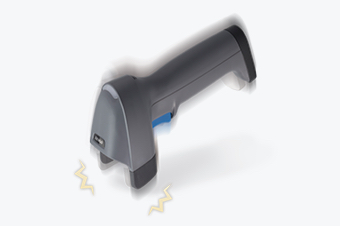 The AT31Q is designed to withstand a 2-meter drop impact and other multiple impacts during daily operations. It resists 100,000 falls from a height of 7.9 in (20 cm), giving operators long-term peace of mind. An IP42 rating provides protection against water and dust.
Attention to rugged-design details
The point of connection is often prone to failure. By providing a highly robust and durable connector cover, DENSO ensures that this risk is minimized.
Easy configurability ensures easy deployment
Parameters can be easily set on a PC
The AT31Q comes with the free software application Scanner Setting 2D, enabling users to easily set parameters such as reading conditions and data formats based on the objects to be read. Several convenient functions reduce the time required to develop applications.
Data-collation and edit functions eliminate the need for development of a dedicated application
The AT31Q is equipped with a function to compare the registered master data with the read data, which enables easy creation of systems for taking inventory, etc. In addition, the AT31Q's ADF Script application makes it easy to edit data freely, including data sorting, extraction and conversion, without having to develop a dedicated application.
Specifications
Type
USB Model

AT31Q-SM(U)(1)

RS-232C Model

AT31Q-SM(R)

Scanner
Method
Area Sensor
Readable codes
2D Codes
QR code, SQRC, iQRcode, Micro QR code, Data Matrix (ECC200), PDF417, Micro PDF417, Maxi code, Aztec, GS1 Composite
1D Codes
EAN-13/8 (JAN-13/8), UPC-A/E, UPC/EAN (with add-on), Interleaved 2 of 5 (ITF), Standard 2 of 5 (STF), CODABAR (NW-7), CODE39, CODE93, CODE128, GS1-128 (EAN-128), GS1 Databar (RSS)
Minimum resolution
2D Codes
0.167mm
1D Codes
0.125mm
PCS value
0.30 min
Angle
±50°
Skew angle
360°
Image capture
BMP, JPEG output, thumbnail view
Scanning confirmation
Confirmation LED (blue, green, red), Buzzer
Marker
LED point marker
Communication interface
Method
USB(1)
RS-232C
Connector
USB connector (A type)
D-sub 9S
Cable
2 m
2 m, 5 m
Power
Supply from the connection(2)
Supply from the connection, directed AC adapter
Environment requirements
Protection rating
IP42
Drop resistance(3)
0.2 m x 100,000 times; 2.0 m onto concrete floor
Operating temperature
-5 to 50°C
Operating humidity
10 to 90% RH (no condensation)
Weight (Except cable)
Approx. 125 g
Two methods are supported: a USB keyboard interface and a USB-COM interface. Factory default is USB-COM.
This type of connection may not be possible depending on the model of the PC or USB hub.
Result obtained in test at room temperature; not meant as a guarantee.
Warranty & Return
Warranty & RMA Information:
Warranty period varies by Manufacturer and Product Range
Contact us for Warranty specifics for your product
Contact our RMA department to requesting an RMA (310) 837-5888
The serial number of your defective product must be provided before we can process the RMA. Serial number can be found on the product label.
Upon submittal of an RMA request, an email will be sent to the email address provided with instructions on returning the defective product/s.
Shipping: The customer will only pay for incoming shipment Manufacturer will pay for return shipment (Standard ground service). Charges may apply for expedited shipping.
Repair turn around time varies by Manufacturer and Product Range.
Non-DOA Returns Policy – All products
NO open box returns for non-DOA products. Product box must be clean and undamaged, with no marks of any kind. This includes writing, stamps, or shipping labels, i.e., written RMA numbers. All products must be double boxed.
Original manufacturer's packaging, both inside and outside must be used. Returns must be complete with all manuals, cables, warranty cards, static bags, etc., just as the customer received them.
Customers have 30 days from date of invoice to request a non-DOA return. The RMA number issued is valid for 30 days from issue date.
There will be a restocking fee on returns resulting from customer error.
Non-DOA configured product may not be returned.
Products that show signs of use are not returnable to Peripheral Resources as non-DOA.
For customers on credit terms, credit will be applied to your account when the product is received by Peripheral Resources.
Customer is responsible for freight costs when returning product.
DOA Returns Policy
Refer to manufacturer's warranties and returns policies.
If the product is tested and the problem is not duplicated, there may be a No Problem Found fee charged to the customer.
For customers on credit terms, credit will be applied to your account when the product is received by Peripheral Resources. Replacement product will be sent once DOA item has been received.
For customers on C.O.D. or credit card status, replacement product will be sent upon receipt of product by Peripheral Resources. If desired, we will send replacement product at your normal C.O.D. or credit card status and you can request a refund or credit to your card when Peripheral Resources receives the returned product.
Downloads
| | | |
| --- | --- | --- |
| | User Manual AT30Q | |
| | Product Brochure | |
| | Cleaning Instructions | |